Potensi Air Dan Penataan Muara Sungai
Abstract
Puji dan syukur penulis panjatkan kepada Tuhan Yang Maha Kuasa, yang telah memberikan rahmat dan karuniaNya, sehingga Buku Potensi Air dan Penataan Muara Sungai ini dapat diselesaikan dengan baik. Buku ini disusun dari materi-materi untuk bahan perkuliahan dan penelitian-penelitian terkait. Isi buku ini lebih banyak membahas tentang muara. Muara sungai menjadi tempat yang sangat menarik karena memiliki banyak potensi. Akan tetapi daerah muara ini seringkali mengalami permasalahan-permasalahan seperti sedimentasi, masalah pencemaran serta degradasi lainnya. Oleh sebab itu untuk menjaga kelestarian potensi airnya dan keberlanjutan potensi muara sungai maka sangat penting untuk melakukan penataan kawasan muara sungai.  Pada kesempatan ini penyusun menyampaikan terima kasih kepada semua pihak yang telah membantu penyusun dalam menyelesaikan buku ini. Mudah-mudahan buku ini dapat memberikan sedikit manfaat bagi para mahasiswa pada umumnya yang membuat studi atau penelitian terkait dengan Potensi Air dan Penataan di Muara.
References
Anasiru, T. (2006) 'Angkutan Sedimen Pada Muara Sungai Palu', Jurnal SMARTek, 4(1), pp. 25–33.
Aryastana, P., Ardantha, I. M. and Agustini, N. K. (2017) 'Analisis Perubahan Garis Pantai dan Laju Erosi di Kota Denpasar dan Kabupaten Badung Dengan Citra Satelit Spot', Jurnal Fondasi, 6(2), pp. 100–111.
Badan Lingkungan Hidup (2012) Status lingkungan Hidup Provinsi Bali 2011. Denpasar.
Bray, N. and Cohen, M. (2010) Dredging For Devlopment. 6th edn. Netherland: International Association of Dredging Companies (IADC).
Bruun, P. (1973) Port Engineering. Houston, Texas: Gulf Publishing Company.
Chendratama, E. et al. (2010) Perencanaan Normalisasi Sungai Blukar Kabupaten Kendal. Semarang. Available at: https://media.neliti.com/media/publications/103130-ID-perencanaan-normalisasi-sungai-blukar-ka.pdf.
CV. Yufa Karya Mandiri (2012) Konsep Pembangunan Waterfront Development. Available at: https://cv-yufakaryamandiri.blogspot.com/2012/10/konsep-pembangunan-waterfront.html (Accessed: 2 July 2019).
Dackombe, R. V. and Gardiner, V. (1983) Geomorphological Field Manual. London: George Allen and Unwin.
Dahuri, R. (1992) 'Strategi penelitian estuari di Indonesia', in Pros. Loka. Nas. Peny. Prog. Pen. Bio. Semarang: Kelautan dan Proses Dinamik Pesisir, UNDIP.
Damanik, J. and Weber, H. (2006) Perencanaan Ekowisata dari teori ke Aplikasi. Yogyakarta: PUSPAR dan Andi.
Davis, R. A. J. (1985) Coastal Sedimentary Environtments. New York: SpringerVerlag.
Departemen Permukiman dan Prasarana Wilayah (2004) Perbaikan Muara Sungai dengan Jeti, Pedoman Konstruksi Dan Bangunan. Available at: http://sni.litbang.pu.go.id/image/sni/isi/pd-t-07-2004-a.pdf.
Duxbury, A. et al. (2002) Fundamentals of Oceanography-4th Ed. New York: McGraw-Hill Publishing.
Eisma, D. (2006) Dredging In Coatal Water. London: Taylor & Franncis plc.
Ekowisata Bali (2013) Informasi Ekowisata. Available at: http://www.ekowisatabali.com/ekowisata-2/.
Eryani, I. G. A. P. (2014) 'Potensi Air Dan Metode Pengelolaan Sumber Daya Air Di Daerah Aliran Sungai Sowan Perancak Kabupaten Jembrana', Paduraksa, 3(1), pp. 32–41.
Eryani, I. G. A. P. (2015a) Potensi Air Muara Sungai Petanu Dan Saba Sebagai Model Pengelolaan Sumber Daya Air di Provinsi Bali. Universitas Udayana Denpasar.
Eryani, I. G. A. P. (2015b) 'Upaya Pengelolaan Lingkungan Pantai Kedungu Dan Muara Sungai di Kabupaten Tabanan', Paduraksa, 4(1), pp. 48–56.
Eryani, I. G. A. P. (2017) Perancangan Bangunan Air untuk Pengelolaan Sumberdaya Air di Hilir Sungai. Denpasar: Warmadewa University Press. Available at: https://www.scribd.com/document/399111980/Buku-Ajar-Eryani-2017.
Eryani, I. G. A. P. and Nurhamidah, N. (2020) 'Sedimentation management strategy in river estuary for control the water damage in downstream of Ayung River', International Journal on Advanced Science, Engineering and Information Technology, 10(2), pp. 743–748. doi: 10.18517/ijaseit.10.2.10832.
Gross, M. G. (1987) Oceanography A View of the Earth. Fourth Edi. Prentice-Hall.
Hartoko, A. (2010) Modul Praktikum MK. Aplikasi Inderaja & SIG Perikanan. Semarang.
Hehanussa, P. E., Hadiwisastra, S. and Joehanah, S. (1975) Sedimentasi Delta Baru Cimanuk, Pertemuan Ilmiah Tahunan IV. Bandung: Ikatan Ahli Geologi Indonesia.
Odum, E. P. (1971) Fundamentals of Ecology 3rd. Toronto: W.B. Saunders Co.
Peraturan Pemerintah (2001) 'Peraturan Pemerintah Republik Indonesia Nomor 82 Tahun 2001', Peraturan Pemerintah Republik Indonesia, (1), pp. 1–5. doi: 10.1016/j.aquaculture.2007.03.021.
Pethick, J. (1984) An Introduction to Coastal Geomorphology. Mariland: Edward Arnold.
Pritchard, D. W. (1967) 'What is an estuary: a physical viewpoint', American Association for the Advancement of Science, 83, pp. 3–5.
PT. Noupara (2012) Masterplan Penataan Kawasan Wisata Tepi Air Belawan. Medan.
Reineck, H. . and Singh, I. B. (1975) Depositional Sedimentary Environments. New York: Springer Berlin Heidelberg.
Selby, M. J. (1985) Earth's Changing Surface an Introduction to Geomorphology. Oxford: Clarendon Press.
Sisda Bali (2020) Pembangunan Prasarana Pengendali Banjir Tukad Mati di Kab. Badung dan Kota Denpasar, http://sda.pu.go.id/. Available at: http://sda.pu.go.id/bwsbalipenida/berita/detailberitabalai/109-pembangunan-prasarana-pengendali-banjir-tukad-mati-di-kab-badung-dan-kota-denpasar- (Accessed: 23 July 2020).
Summerfield, M. A. (1991) Global Geomorphology, An Introduction to The Study of Landforms. Singapore: Longman Singapore Pub.
Sunarto (2004) Perubahan Fenomena Geomorfik Daerah Kepesisiran di sekeliling Gunungapi Muria Jawa Tengah (Kajian Palaeogeomorfologi). Universitas Gadjah Mada.
Sunaryo, M., Walujo, T. and Harnanto, A. (2004) Pengelolaan Sumber Daya Air, Konsep dan Penerapannya. Malang: Bayumedia.
Syahminan (1996) Studi Pencemaran Logam Berat di Perairan Estuari Siak, Pekanbaru, Riau. Fakultas Perikanan dan Ilmu Kelautan IPB.
Triatmodjo, B. (1999) Teknik Pantai. Yogyakarta: Beta Offset.
Werdi, N. M. K. and Eryani, I. G. A. P. (2020) 'Alternatif Perencanaan Jetty di Muara Tukad Pangi Kabupaten Badung', Paduraksa, 9(1), pp. 102–113.
Wicaksono, L. (2015) 'Muara Sungai di Kawasan Pantai Lovina Jadi Sarang Nyamuk', tribun-bali.com, 20 September. Available at: https://bali.tribunnews.com/2015/09/20/muara-sungai-di-kawasan-pantai-lovina-jadi-sarang-nyamuk.
Williams, H. (2015) Streams and Rivers. Available at: http://earthsci.org/processes/geopro/stream/stream.html.
Wright, D. L. (1987) 'River Delta', in Davis, R. A. (ed.) Coastal Sedimentary Environments. New York: Springer-Verlag, pp. 5–68.
Yoeti, O. A. (2008) Ekonomi Pariwisata: Introduksi, Informasi, dan Implementasi., Kompas Media Nusantara. Edited by B. Pribadi. Jakarta: Kompas Media Nusantara. Available at: https://opac.perpusnas.go.id/DetailOpac.aspx?id=408576.
Zulkarnain, I. et al. (2016) 'Analisis Perbandingan Perhitungan Volume Pengerukan Dengan Perhitungan Manual dan Program Surfer (Studi Kasus Pelabuhan Khusus Batubara Pt. Indominco Mandiri Bontang)', Jurnal Chart Datum, 2(1), pp. 21–28. Available at: https://www.researchgate.net/publication/342560031_Analisis_Perbandingan_Perhitungan_Volume_Pengerukan_dengan_Perhitungan_Manual_dan_Program_Surfer_Studi_Kasus_Pelabuhan_Khusus_Batubara_PT_Indominco_Mandiri_Bontang.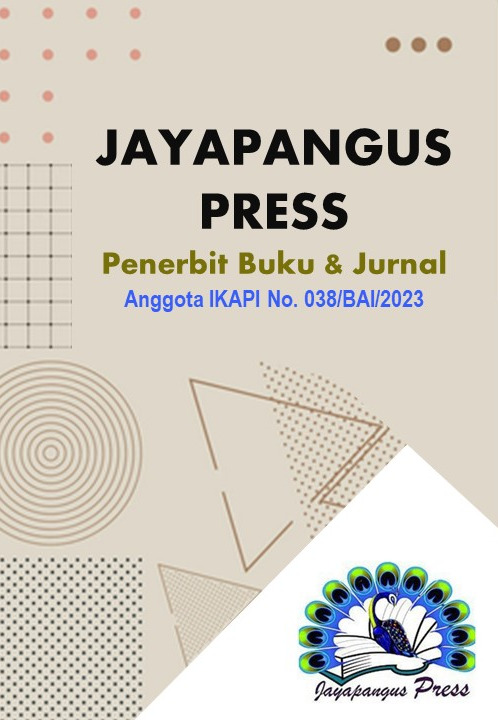 Downloads
How to Cite
Eryani, I. G. A. P. (2020). Potensi Air Dan Penataan Muara Sungai. Jayapangus Press Books, i–84. Retrieved from http://book.penerbit.org/index.php/JPB/article/view/488